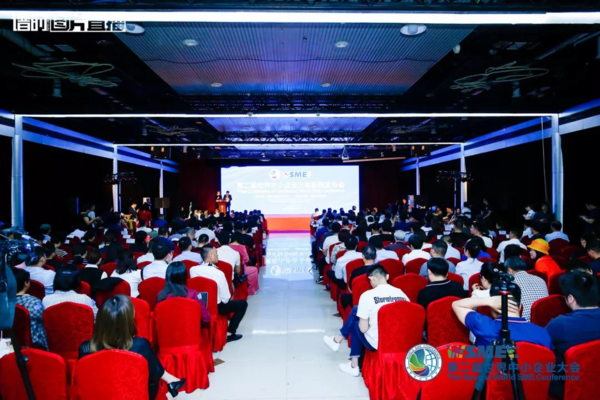 在5月16日举行的2019第二届世界中小企业大会新闻发布会上,中国中小商业企业协会会长王民宣布,作为响应联合国"中小微企业日"的重要行动,第二届世界中小企业大会定于2019年6月21日-23日在北京雁栖湖国际会展中心举行。本次大会得到了中国人民对外友好协会等机构的支持,由中国中小商业企业协会联合公共外交文化交流中心、"一带一路"智库合作联盟、北京外国语大学国际商学院、陕西中医药大学、北京师范大学一带一路学院、中国国际友人研究会、韩国东北亚和平经济协会、印度中小企业商会、德国中国工商会等机构共同举办,江苏省邳州市,天津市河东区作为战略合作城市参与。届时,来自国内外的官产学研及优秀中小企业代表出席会议,众多专家学者和企业家将发表主旨演讲。
At the Press Conference for the 2nd World SME Conference 2019 on May 16, Wang Min, President of China Association for Small & Medium Commercial Enterprises, declares that the 2nd World SME Conference will take place at the Beijing Yanqi Lake International Convention & Exhibition Center of China from June 21 to 23, 2019, as an important action to response to the UN's Small and Medium Enterprises Day. With support of the Chinese People's Association for Friendship with Foreign Countries, the Conference will be co-sponsored by the Public Diplomacy & Culture Exchange Center of China Association for Small & Medium Commercial Enterprises, Belt & Road Think Tank Alliance, International Business School of Beijing Foreign Studies University, Shaanxi University of Chinese Medicine, Belt and Road School of Beijing Normal University, China Society for People's Friendship Studies, North-East Asia Peace Economic Association of South Korea, Chamber of Indian Micro Small & Medium Enterprises, Chinesischer Industrie- und Handelsverband e.V. in Deutschlandwith and other organizations, with the participation of Pizhou City of Jiangsu Province and Hedong District of Tianjin as strategic cooperation city and district. At that time, representatives of government-industry-university-institute collaboration and representatives of excellent SMEs at home and abroad will attend the Conference, and many experts, scholars and entrepreneurs will deliver keynote speeches.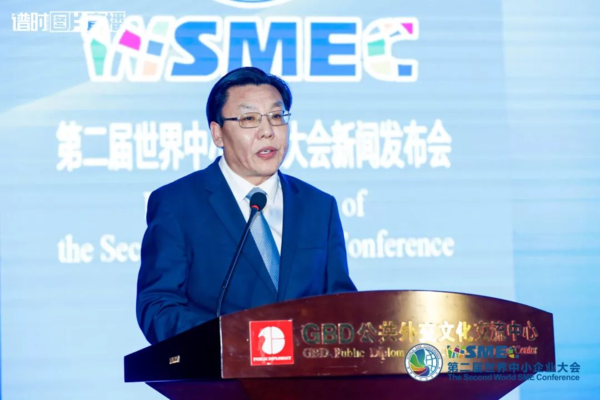 公共外交文化交流中心、平安集团金融壹账通壹企业、微软加速器·北京、江苏省邳州市、天津市河东区、马尔代夫驻华大使馆、曙光都市工业园等代表分别在发布会上做了主题推介。维颂创智、承影互连、内蒙古小康生活电子商务、北京工匠造办文化、深圳小牛在线作为中小企业服务商代表与组委会进行了项目签约。马尔代夫驻华大使穆罕默德·费萨尔,埃塞俄比亚驻华使馆副馆长吉尼特·特肖梅·吉鲁,巴基斯坦使馆商务参赞巴达尔·扎曼,阿尔及利亚文化参赞哈姆扎·哈吉·谢里夫等驻华使节,50多家新闻媒体机构出席新闻发布会。
The representatives from Public Diplomacy & Culture Exchange Center, Ping An Insurance Group - ONE CONNECT, Microsoft Accelerator Beijing, Pizhou City of Jiangsu Province, Hedong District of Tianjin, the Embassy of the Maldives to China and Dawn Urban Industrial Park make thematic promotions at the Press Conference. SOOM TECH, Chengying Hulian, Inner Mongolia Xiaokang Life E-commerce Co., Ltd., Beijing Gongjiang Zaoban Culture Co., Ltd. and Shenzhen Xiao Niu Online, as representatives of SME service providers, sign project contracts with the Organizing Committee. The ambassadors in China and more than 50 news media agencies present the Press Conference, specifically Mr. Faisal Mohamed, Ambassador of Maldives to China, Genet Teshome Jirru, Deputy Chief of the Embassy of the Federal Democratic Republic of Ethiopia in China, Mr. Badar U Zaman, Commercial Counselor of the Embassy of the Islamic Republic of Pakistan in China, and Mr. Hamza Hadji Sharif, Economic Counsellor of the Algeria Embassy in China.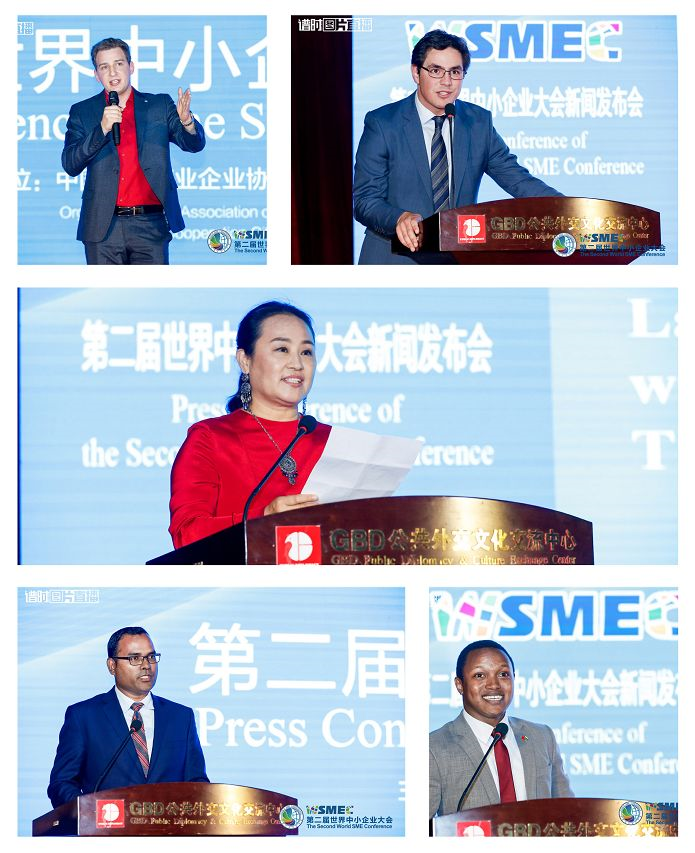 王民指出,由中国中小商业企业协会主办的世界中小企业大会去年成功举办,参会者踊跃而广泛,两届大会都有鲜明的主题、丰富的内容、显著的成效,组委会为与会多个国家、地区和海内外上千家企业搭建起互学、互鉴、交流合作、深度对话的重要平台,有效发挥了协会桥梁和纽带的作用。就像习近平主席在亚洲文明对话大会开幕式上所强调的,文明因多样而交流,因交流而互鉴,因互鉴而发展。特别是经过三年多的历练和沉淀,大会作为中小企业国际合作领域的专业性的一个大会,知名度在不断提高,影响力在不断扩大,品牌效应在不断凸显。
Wang Min says that China Association for Small & Medium Commercial Enterprises successfully held the first World SME Conference last year with active part of participants. Thanks to distinct themes, rich contents and remarkable results, the Organizing Committee has built an important platform for learning from each other, exchange, cooperation, and in-depth dialogue among thousands of enterprises in many countries, regions and at home and abroad, and effectively played the role as the bridge among them. As President Xi Jinping emphasized at the Opening Ceremony of the Conference on Dialogue of Asian Civilizations, civilizations exchange through diversity and learn from each other for development. Especially after more than three years of experiences and hard work, the conference, as a specialized conference for international cooperation between small and medium enterprises, is gaining popularity, influence and spreading its brand effect.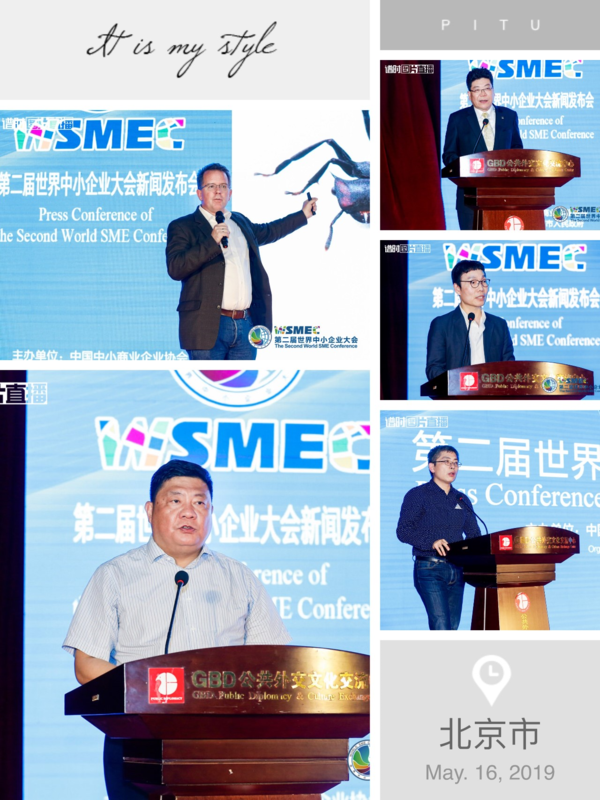 韩国东北亚和平经济协会、韩中经济合作团团长文秉玉代表主宾机构致辞。他指出,构建人类命运共同体,凝聚每个人的力量,凝聚着每个企业的希望。中小企业是世界各国经济发展的支柱,也是最具发展活力和创造力的企业群体。中国中小商业企业协会发起创办"世界中小企业大会"这一重要平台,韩国东北亚和平经济协会对此高度赞赏,并将组织韩国企业代表团参与此次盛会,期望在一系列的对接活动中为双方企业嫁接合作桥梁。
Wen Bingyu, Head of the South Korea-China Economic Cooperation Group of the North-East Asia Peace Economic Association of South Korea, delivers a speech on behalf of the guest organization of honor. He points out that building a community with shared future consolidates everyone's strength and pools every enterprise's hope. SMEs are the pillar of economic development in the world, and also the most dynamic and creative enterprise group. The World SME Conference initiated by the China Association for Small & Medium Commercial Enterprises is highly appreciated by the North-East Asia Peace Economic Association of South Korea. So, the Association will organize a large delegation of South Korean enterprises to attend the conference, expecting to bridge the Chinese and South Korean enterprises for cooperation in a series of matchmaking events.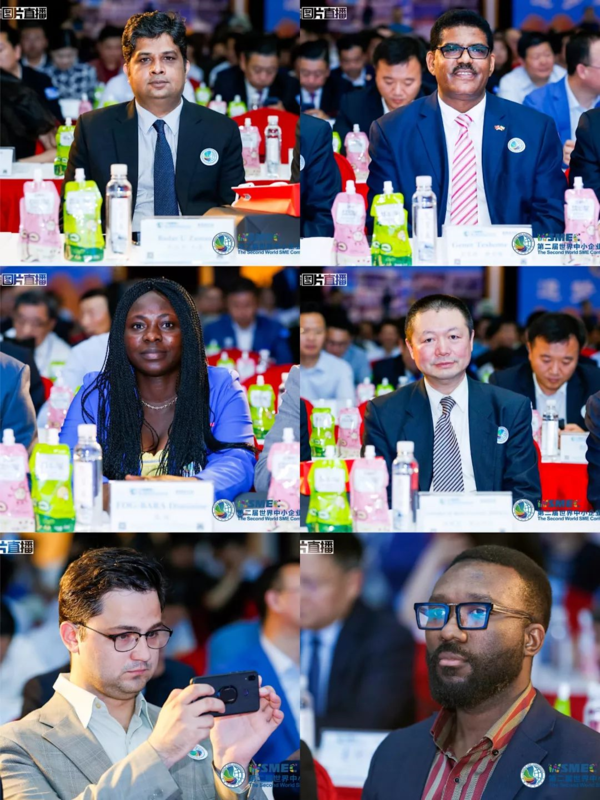 据了解,本届大会亮点多多,商机无限,这次会议更加突出"一带一路"合作主题。今年4月,中国在北京成功举办第二届"一带一路"国际合作高峰论坛,第二届世界中小企业大会基于这样的大背景,将举办以"一带一路"为主题的合作对接和会议研讨活动,推动中小企业这支生力军,勇做先锋队、马前卒,积极发挥勇于创新、敢于担当的精神,在深度融入"一带一路"建设大潮中,通过组成联合舰队,抱团出海,不断开辟发展的新境界。
It is learn that the Conference will be featured by many highlights, with numerous business opportunities. The theme of Belt and Road cooperation will be highlighted at the Conference. In April 2019, the Second Belt and Road Forum for International Cooperation was successfully held in Beijing, China. In this context, cooperation interface and sessions themed by the Belt and Road will be held during the Conference to promote SMEs, as a new force, to courageously act as vanguards and pioneers, actively display the spirit of courage to innovate and bear the responsibility, and form a united fleet and work together to go global in the development of the Belt and Road, and constantly open up a new world of development.
根据中国商务部发布的信息,2013-2018年,中国企业对沿线国家直接投资超过900亿美元,年均增长5.2%。沿线国家新签对外承包工程合同额超过6000亿美元,年均增长11.9%。截至目前,中国企业在"一带一路"沿线国家建设了一批境外经贸合作区,累计投资超过300亿美元,成为当地经济增长、产业集聚的重要平台,带动东道国就业近30万人。"一带一路"倡议,源自中国,已惠及世界。世界中小企业大会就要搭乘"一带一路"快车,秉持互利共商,深化合作共赢,全力推进产能合作向纵深发展,为全球经济发展贡献中国力量。
According to the information released by the Ministry of Commerce, Chinese enterprises' direct investment in countries along the Belt and Road from 2013 to 2018 exceeded US$ 90 billion, growing at an annual rate of 5.2%. The amount of new contracting of foreign projects along the Belt and Road exceeded US$600 billion, with an average annual increase of 11.9%. Up to now, Chinese enterprises have built a number of overseas economic and trade cooperation zones in countries along the Belt and Road, with a total investment of more than US$ 30 billion, becoming an important platform for local economic growth and industrial agglomeration, and providing nearly 300 thousand jobs in the host countries. The Belt and Road Initiative is proposed by China, but its fruits are shared by participating countries and the whole world. As driven by the Belt and Road, the World SME Conference, by advocating mutually beneficial cooperation and deepening win-win cooperation, will strive to further develop capacity cooperation and contribute to global economic development.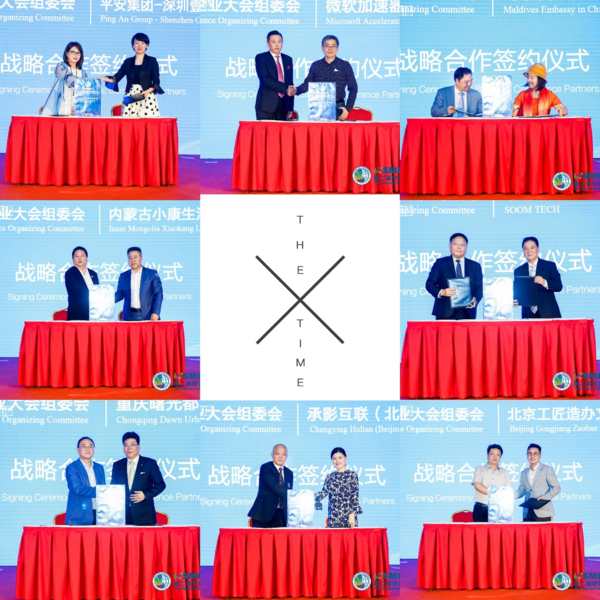 这次会议更加突出中小企业国际合作。作为推进中小企业国际合作的特色专题会议,本次大会更加聚焦经济形态分析与研判。一是特邀国家政府高层和部委领导介绍最新政策设计、企业投资合作指向;二是邀请众多国内外有影响力、有独特见解、有企业实践经验的学者、专家、企业家代表与会演讲交流,加大对实体经济和产业的解析度;三是邀请"一带一路"沿线相关国家、地区机构和企业参与,着力推动深度交流和沟通;四是举办项目对接活动,为与会的国内外政府、企业,打造展示对接洽谈平台,推进中小企业国际合作健康可持续发展。
The international cooperation between SMEs is much more focused on at the conference. As a specialized conference to boost international cooperation between SMEs, it will pay much more attention to the analysis and study on economic formation. First, some senior government officials and ministry leaders will introduce the latest policy design and the orientation of enterprise investment cooperation. Second, influential scholars, experts and entrepreneurs at home and abroad will deliver speeches and exchange with unique insights and practical experience, analyzing the real economy and industry. Third, institutions and major enterprises in countries and regions along the Belt and Road will participate in exhibition, vigorously promoting in-depth exchange and communication. Fourth, matchmaking events will be held to set up a platform of exhibition and negotiation for participating governments and enterprises at home and abroad, and to promote the sound and sustainable development of SMEs on international cooperation.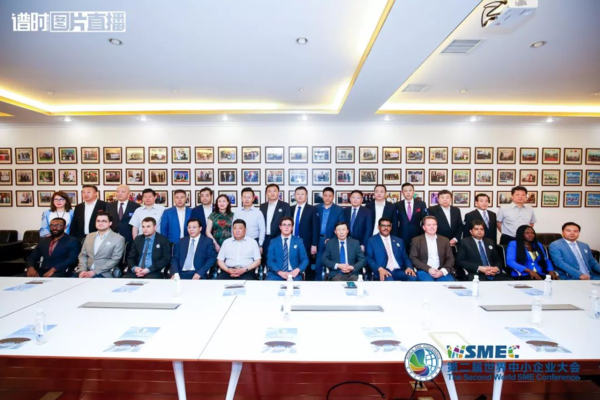 这次会议更加突出实效成果。本次大会,议题将更加新活多样,活动更加紧凑简约,形式更加注重实效,着力提供更多企业发展智慧,促成更多合作意向成果。我们本着方便与会者交流、沟通和洽谈的精神,会议将参考"1+1+N"的组织模式,举办一场开幕式、一场主论坛、N场平行分论坛,开展多层面交流互鉴,广泛凝聚合作共识。开设国别投资推介平台,设立国际、国内展区和一对一洽谈区;举办"未来创业者—模拟企业家国际圆桌论坛",邀请国内外的青年学生参与,让更多的学生了解到商业在未来世界的重要性。
The practical results are stressed at the conference. At this conference, the theme will be more energetic and diverse, and the contents will be more compact with focus on practical results. This helps to foster development of more enterprises and bring about more intentions for cooperation. In order to facilitate the exchange, communication and negotiation between participants, the Organizing Committee will hold an opening ceremony, a main forum and numerous sub-forums, referring to the mode of "1+1+N", to promote multi-level exchanges and mutual learning, and to pool broad consensus on cooperation. A national investment promotion platform is provided. International and domestic exhibition areas and one-to-one negotiation areas are established. In addition, the "Entrepreneurs of Future - Simulating International Entrepreneurs' Round-Table Forum" will be held for students at home and abroad, letting them know the significance of business in the future world.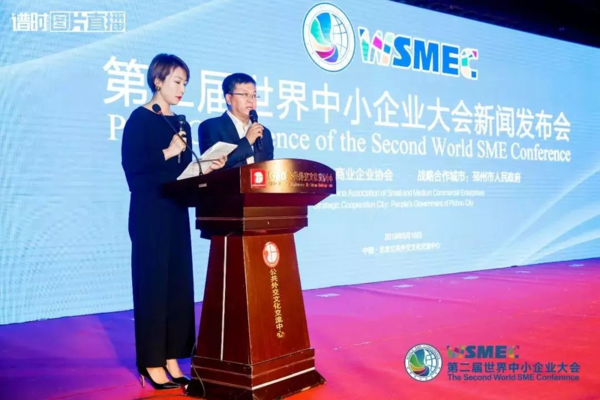 北京外国语大学国际商学院院长牛华勇教授在采访中指出,世界中小企业大会已成为助力中国企业"走出去",促进各国中小企业交流合作的重要平台。
Professor Niu Huayong, Dean of International Business School of Beijing Foreign Studies University, points out in the interview that the World SME Conference has become a major platform to support Chinese enterprises "going global" and promote exchange and cooperation between SMEs of different countries.